Cash For Damaged Cars Edmonton
DID YOU KNOW WE PAY CASH FOR DAMAGED CARS?
BUYING DAMAGED CARS IN EDMONTON – CASH FOR USED CARS
If you are looking to get cash for damaged cars Edmonton, you've found the right scrap car buyer! Here at Cash for damaged cars Edmonton, we always pay more cash for scrap cars than any of our competitors.  How, you ask? We've been in the scrap car buying business since 2015, and we have learned along the way how to utilize local metal recycling businesses so that your vehicle gets recycled in the most cost-efficient way. This ensures that most of your car actually gets recycled and does not just end up in a landfill, but also by using local businesses like General Recycling, you are guaranteed to get paid the most cash for your junk vehicle because like us, they are experts in their field. 
Cash For Cars Is What We Do
HOW IT WORKS: CASH FOR CARS IN 3 SIMPLE STEPS:
Call us on 780-707-5554 or use our online form to get a free quote.
Once we arrive and put it on our tow truck, viola cash instantly!
Once we arrive and put it on our tow truck, viola cash instantly!
Edmonton Junk Car Removal
Looking to get the most cash for your damaged car in Edmonton? Well, you've come to the right place. At Cash for Used Cars we strive to live up to our name everyday by paying MORE cash for Damaged cars, damaged trucks,  and all wrecked vehicles or older automobiles than any other company in our industry. When it comes to junk car removal, we truly do not care what kind of condition it's in. In fact, the majority of our customers sell us their vehicles because they know they will get cash for damage cars with our services, than any other junk car removal company in Edmonton.
Types of scrap vehicles we buy:
Scrap cars including old or damaged sedans, coupes, convertibles with roof damage, exotic or foreign scrap cars, and station wagons
Damaged trucks like light trucks, heavy duty, diesels, old propane trucks, 1-tonne trucks, damaged and rusted work trucks, off road and camping trucks
Damaged SUV's and crossovers of any make, model, year, and condition
Damaged vans in any shape or form such as camper vans, work vans, 15 passenger vans, cargo vans, and minivans
Scrap hybrid and electric vehicles, which with these being relatively new, they are usually severely damaged or have mold issues, and we buy them!
For nearly 5 years we have been the leader in the scrap car removal industry. We work hard to ensure that you are getting paid cash for damaged cars Edmonton, but that it's done in a timely manner. This is why we work 7 days a week, 8:00 am – 10:00pm, so that you, our customer, can get paid cash for your scrap car removal at a time and place that works best for YOU.
Free Scrap Car Removal Estimates
We are proud to be a local Chilliwack-based scrap car removal company. Our junk car removal yard is located just outside the region and our agents live and work throughout the Chilliwack and Fraser Valley regions. This enables us do scrap car removal when you choose us to recycle your car, with incredible speed and efficiency. We can typically provide same day scrap car pickup. Plus, we work 7 days a week to make accommodating our customers even easier.
If you are interested in what your scrap car removal may be worth, give us a call or text today to get an instant quote. You can also use our junk car estimate form  on our More Cash For Scrap website. We come to you, we do all the paperwork and nobody offers more cash for scrap cars in the Fraser Valley!
Call us today to learn how you can GET Cash for Damaged Cars Edmonton!
Cash for Damaged Cars Edmonton has earned good market repute and has been providing commendable scrapping service for long years. It is because of our service support and unflinching dedication towards work, we have been successful in gaining rave reviews and acclaim. Besides providing Cash for Damaged Cars Edmonton and its surrounding areas we ensure that you get the best price for your junk car removal.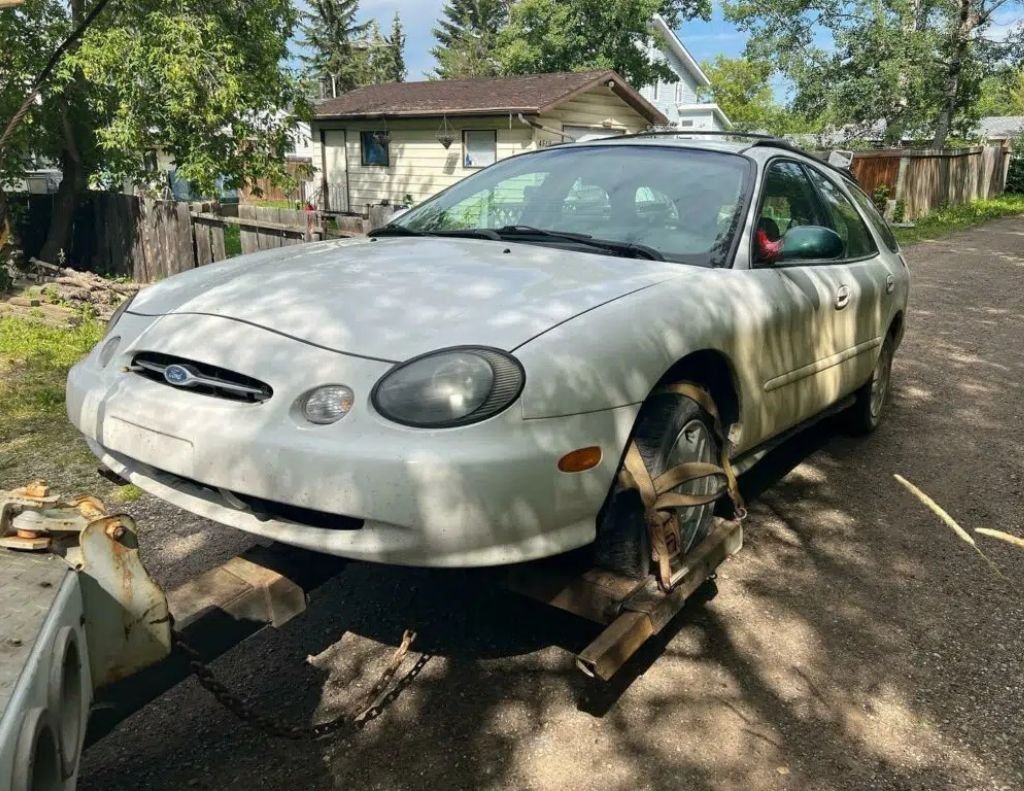 Schedule Your Appointment Today
A complete transaction often takes as little as 20 minutes. We do all the paperwork and license plate removal.
Acura MDX
Acura RDX
Acura TL
Acura TSX
Audi Q5
Audi Q7
BMW 3 Series
BMW 5 Series
BMW 7 Series
BMW Chevy Avalanche
BMW Chevy Tahoe
BMW X3
BMW X5
Cadillac Escalade
Cadillac SRX
Chevy Cruze
Chevy Equinox
Chevy Express Van
Chevy Jeep Patriot
Chevy Silverado
Chevy Traverse
Dodge Caravan
Dodge Durango
Dodge Journey
Dodge Ram
Ford Econoline Van
Ford Edge
Ford Escape
Ford Expedition
Ford Explorer
Ford F-Series
Ford Transit Van
GMC Acadia
GMC Canyon Pickup
GMC Savana Van
GMC Sierra Pickup 1500, 2500, 3500
GMC Terrain
GMC Yukon Denali
Honda Accord
Honda Civic
Honda CR-V
Honda HR-V
Honda Insight
Honda Odyssey
Honda Pilot
Honda Ridgeline
Hyundai Elantra
Hyundai Santa Fe
Hyundai Sonata
Hyundai Tucsan
Infiniti FX35
Infiniti G37
Infiniti QX56
Jeep Cherokee
Jeep Compass
Jeep Grand Cherokee
Kia Optima
Kia Sportage
Land Rover Range Rover
Lexus ES
Lexus GS
Lexus GX
Lexus LS
Lexus RX
Mazda CX-5
Mazda CX-7
Mazda CX-9
Nissan Altima
Nissan Armada
Nissan Cube
Nissan Frontier
Nissan Maxima
Nissan Murano
Nissan Pathfinder
Nissan Rouge
Nissan Sentra
Nissan Titan
Nissan Xterra
Subaru Forester
Subaru Impreza
Subaru Legacy
Subaru Tribeca
Toyota 4Runner
Toyota Avalon
Toyota Camry
Toyota Corolla
Toyota FJ Cruiser
Toyota Highlander
Toyota Land Cruiser
Toyota Matrix
Toyota Prius
Toyota Rav4
Toyota Sequoia
Toyota Sienna
Toyota Tacoma
Toyota Tundra
Toyota Venza
Toyota Yaris
Volvo XC60
Volvo XC70
Volvo XC90